Posts for tag: braces
By Pieroni Family Dentistry
September 08, 2014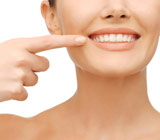 There was a time when most adults with a bad bite or misaligned teeth considered it too late in their lives for corrective treatment. Fortunately, times have changed — today, one in five orthodontic patients is an adult.
There are solid reasons for considering corrective treatment for bite problems at any age. Poorly aligned teeth are harder to clean, which raises the risk for tooth decay or gum disease. Correcting alignment may also improve your chewing ability, making eating more comfortable with less joint pain. And, last but not least, orthodontic treatment could greatly improve your smile — with potential benefits to your self-confidence, social life and career.
So, should you consider orthodontic treatment? That will depend on three factors: your periodontal (gum-related) health; your general health; and what type of orthodontic problem needs to be corrected.
If you have gum disease, you are at risk of losing supporting bone — since treatment involves gently moving teeth within the bone that supports them, the inflammation may cause bone loss and may not lend itself to a successful outcome. Moreover, besides aggravating and worsening your periodontal condition, the treatment may result in teeth that may not stay where they were moved and could continue to stay mobile long afterward.
There are certain medical conditions that could make orthodontic treatment difficult or even prohibitive: heart-valve disease; bleeding disorders; leukemia; severe diabetes; and taking medications for arthritis or osteoporosis, or those that increase mouth dryness. If you have serious medical conditions or you take prescription drugs, it's wise to first consult with your medical doctor before considering orthodontic treatment.
The last consideration is whether the misalignment could involve more of your jaw's skeletal structure than just misaligned teeth. If, for example, the malocclusion (bad bite) is related to the way your jaws fit together, you may need orthognathic surgery to straighten the jaws' alignment while having orthodontic treatment.
There may be an additional roadblock to treatment — many adults feel self-conscious about wearing braces. If this bothers you, you may have another option: clear aligners. These transparent trays that fit over teeth have been a popular choice among adults because they're not as noticeable as braces.
In any event, orthodontic treatment can be a little inconvenient, but only for a relatively short time. The lifetime benefits — better health, improved function and a more attractive smile — are well worth the inconvenience.
If you would like more information on adult orthodontics treatment, please contact us or schedule an appointment for a consultation. You can also learn more about this topic by reading the Dear Doctor magazine article "Orthodontics for the Older Adult."
By Pieroni Family Dentistry
April 16, 2014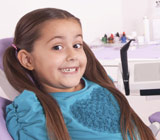 While most orthodontic treatment doesn't commence until a child is older or entering adolescence, it's still a good idea for children as young as 6 to undergo an orthodontic evaluation. An early orthodontic evaluation may reveal emerging problems with the child's bite and jaw development, and help inform the best course of treatment when the time is right.
A specialty within dentistry, orthodontics focuses on the study and treatment of malocclusions or poor bites. Orthodontists are most concerned with the interaction of the face, jaw and teeth, and whether these structures are developing normally and in the right position.
It's possible to detect the beginning stages of a malocclusion as a child's permanent teeth begin to erupt, sometime between ages 6 and 12. Children at this stage may begin to experience crowding of the teeth (or the opposite, too much space between teeth), protruding teeth, extra or missing teeth or problems with jawbone development. While these tend to be congenital (inherited conditions), some problems can be caused by excessive thumb-sucking, mouth breathing, or dental disease stemming from tooth decay. In some cases, "interceptive" orthodontic treatment might be necessary during this early period to improve the chances that future treatment for a malocclusion or poor jaw development will be successful.
An early orthodontic evaluation should be undertaken no later than age 7 to be most effective. It's also advisable to have regular checkups beginning around the child's first birthday to spot developing teeth and jaw problems even when only primary teeth are present. The orthodontic evaluation itself takes advantage of an orthodontist's trained eye to locate more subtle problems with teeth and jaw growth. Knowing this well in advance can make it easier in the long run when orthodontic treatment takes place when they're older. Waiting until after the full emergence of permanent teeth and further jaw and facial development to evaluate for treatment could make it more difficult or even impossible to correct malocclusion issues found later.
The most effective dental care starts early in life. Not only treating immediate problems but also anticipating those that will require treatment later will help ensure your child will have healthy teeth for life.
If you would like more information on childhood orthodontic evaluations, please contact us or schedule an appointment for a consultation. You can also learn more about this topic by reading the Dear Doctor magazine article "Early Orthodontic Evaluation."